This year, the award was presented to the recipients by Mr. Desmond Lee, Minister for National Development of Singapore & Minister-in-charge of Social Services Integration during the Singapore Economic Policy Forum held at Hilton Singapore on 29 October 2021.
The winners were selected based on their contributions in the following four areas:
Passion for and Mastery of Economics
Pedagogy & Assessment
Student Development
Professional Development
The two recipients of this year's OETA are Mr. Simon Quek Lye Soon from Raffles Institution (RI) and Mr. Kelvin Tan Qiwei from Eunoia Junior College (EJC). The two finalists for this year's OETA are Ms Vanessa Yiak Zihui from Singapore International School, Hongkong, Ms Ng Swee Chu from Hwa Chong Institution (HCI) and Ms Tham Peishan from Anglo-Chinese Junior College (ACJC).
Here are the details of the two OETA winners:
Mr Quek is a respected people developer who worked tirelessly to support teachers and enhance their competency and confidence. To support teachers who are new to teaching, Mr Quek worked closely with teacher leaders within the department to provide weekly check-in sessions with these teachers. This allowed newer teachers to have an additional avenue to seek guidance and hone their skills as educators. Through close interactions and exchange of ideas with his department, he successfully inspired and guided each batch of new teachers to incorporate self-directed learning and critical thinking in their pedagogies. When lessons had to be shifted online during the circuit-breaker, Simon took the challenge in his stride and ensured that students continue to learn effectively at home. He worked tirelessly with a team of technically-savvy teachers to support other teachers in the adoption of collaborative learning technologies such as Nearpod, Padlet and OneNote. This teacher support system allowed the department to quickly and seamlessly embrace technology to facilitate home-based learning. Mr Quek's steady leadership in the face of change earned him the trust and support of the teachers he leads.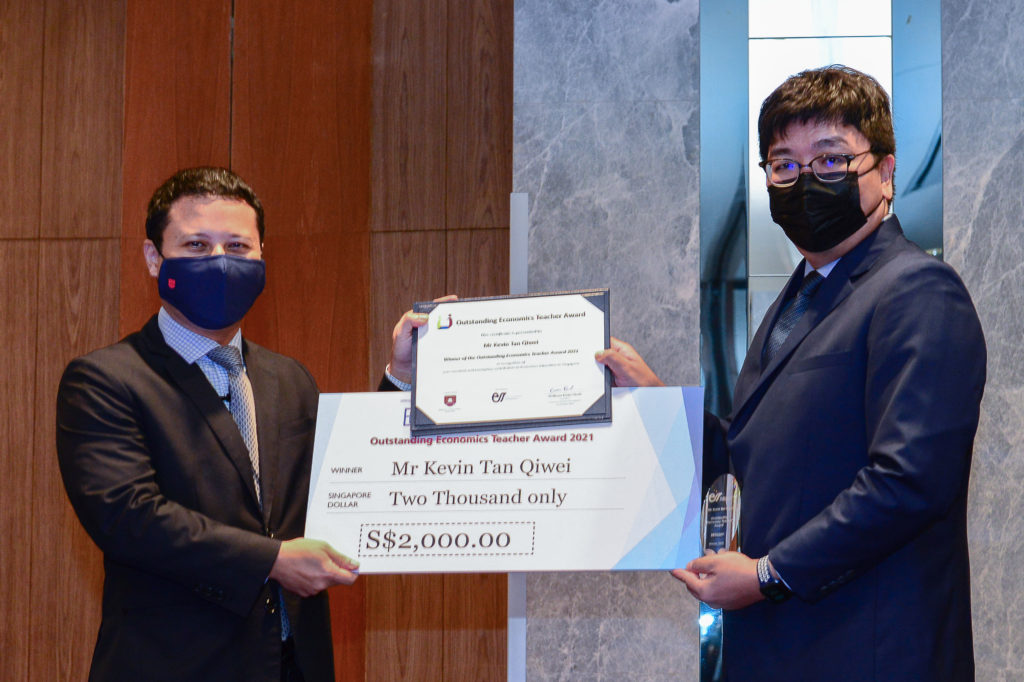 Mr Tan's belief in providing authentic and effective learning experiences for his students has challenged him to redesign his pedagogies. When the Covid-19 pandemic made it difficult for students to travel out of the school for learning journeys, Mr Tan took advantage of the college's location and designed activities for students to observe the application of economic concepts. Students were brought to observe firms around the school compound such as motor repair workshops and a taxi company to learn about competition among firms. Based on their observations, he facilitated a discussion on how the motor repair workshops engaged in competition with one another and how the unused taxis in the taxi company could be a result of competition from ride-hailing services. Beyond his classroom, Kevin helped lead his college's Reimagining Home Based Learning taskforce in redesigning teaching approaches to provide timely feedback to students during online learning. The team improvised the learning experience by breaking up the content into bite-sized segments interspersed with timely assessment activities and guidance so students can continue to receive regular feedback.